14 Jun

EMAC Presentation Highlights – MBTN Module Use in Marketing Classes

For the EMAC conference held last month, I had prepared usage statistics regarding marketing classes and the selection of modules (topics) by faculty. These statistics proved to be valuable for both the MBTN faculty and individuals contemplating the use of MBTN. Moreover, the selection of modules can also serve as an indicator of the topics covered in marketing courses at business schools.

The first slide offers a comprehensive overview of MBTN's utilization across different marketing class settings. While MBTN finds application in a wide range of classes, approximately 90% of its usage is concentrated in the following three popular marketing class types: Marketing Principles, Marketing Analytics/Marketing Metrics, and Marketing Management/Marketing Strategy. The breakdown is illustrated below: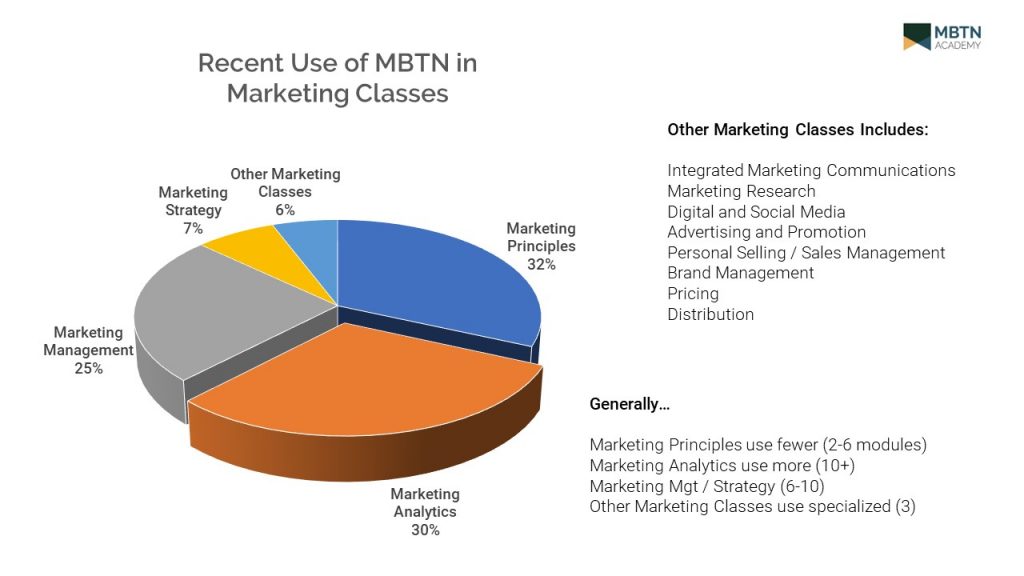 What I found particularly intriguing in this section of the analysis was the variation in the number of modules selected per class. On average, Marketing Principles faculty tend to opt for a smaller number of modules (usually 2-6), while marketing metrics/analytics classes tend to utilize a higher number (typically over 10). In many cases, the latter group even selects the complete marketing package, even if not all the modules are assigned for credit. Marketing Management/Strategy classes fall somewhere in the middle of this spectrum. As for the more specialized classes, they tend to assign a smaller number of modules, presumably due to their narrower focus.
Now let's delve into the modules chosen for each of the three main categories of marketing classes. The following slide presents the MBTN module choices for Marketing Principles. Given the relatively lower number of modules chosen, the percentages for the most frequently selected modules are lower compared to other classes.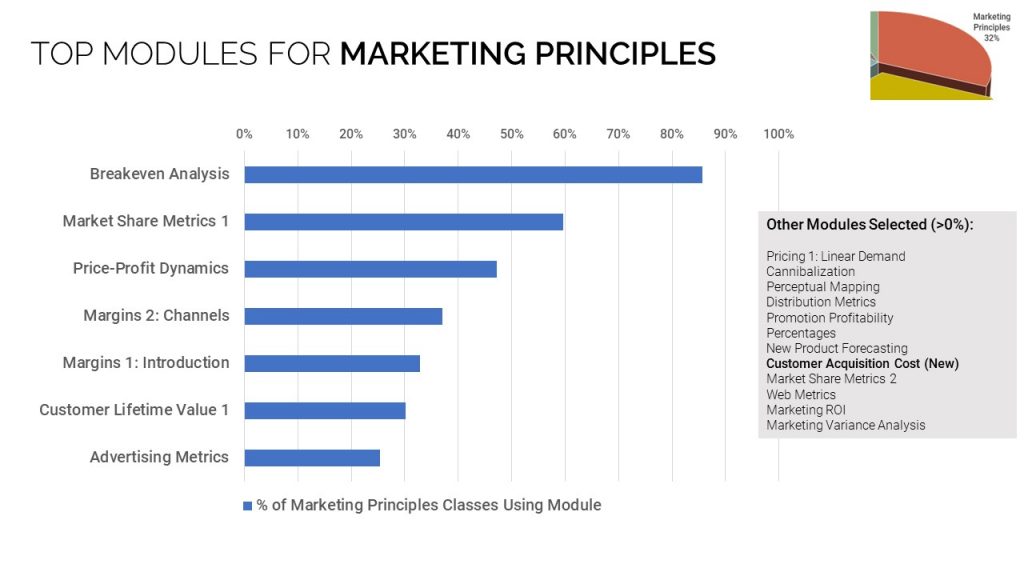 The most prominent MBTN module for Principles classes is Breakeven Analysis, followed by the two Margins modules, with a combined usage of approximately 70%. Market Share, which encompasses market definition issues, and Price-Profit Dynamics, which introduces price-volume trade-offs, rank next. These four topics are utilized by over 50% of the classes. The remaining module topics have a usage rate of 30% or less. On the right side, you can observe other modules and topics assigned by Marketing Principles faculty.
Moving on to Marketing Analytics and Marketing Metrics classes, although the content of these classes is somewhat different, their primary objective is to equip students with mathematical and statistical tools and analyses applicable to marketing. As mentioned earlier, a larger number of modules are chosen for these classes to provide students with a comprehensive exposure to analytical tools. Consequently, the percentages tend to be higher, with all of the top 10 modules selected in 70% or more of the classes, as illustrated below: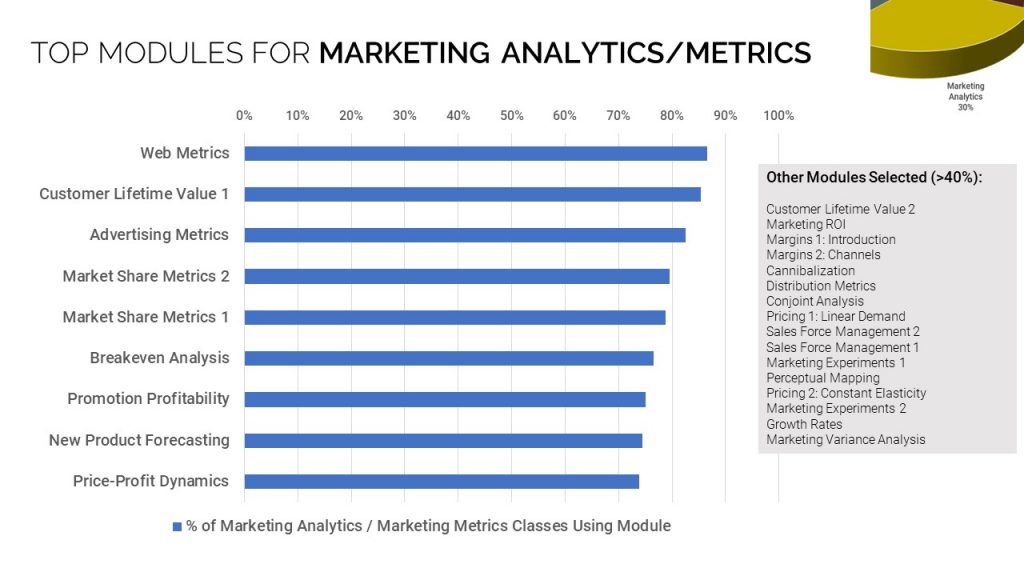 I was somewhat surprised not to find some of our statistics modules on this list (and market experiments ranked higher), but it is possible that statistical content is covered in other prerequisite courses for analytics and metrics classes. Plus, our experiments modules are among our more recent releases. It is certainly not surprising to see web metrics occupying the top position on the list.
Now, let's shift our attention to the modules selected for Marketing Management and Marketing Strategy classes. Once again, we observe a diverse array of modules, as evident from the extensive list and relatively higher percentages.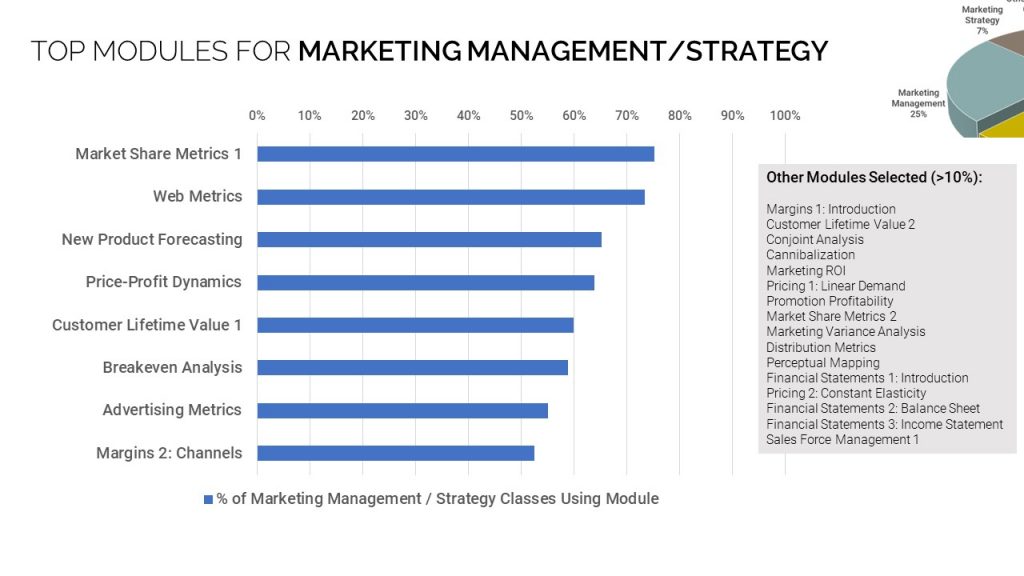 The predominant theme among these modules seems to be a heightened emphasis on financial and competitive aspects. Several Financial Statement modules are selected, along with topics such as Marketing ROI and Marketing Variance Analysis. Market Share Metrics 1, which encompasses market definition, relative market share, and concentration ratios, is at the top of the list. Furthermore, most of the expected topics are covered, albeit with a greater emphasis on content involving financial implications, such as CLV, breakeven analysis, pricing, and cannibalization. I anticipate that our newer modules on Customer Acquisition Costs and RFM Analysis will also gain popularity and ascend this list in due course.
I hope you have found this information valuable. We welcome your feedback and would appreciate suggestions for additional topics that align with the format and approach of the MBTN learning system.
All the best,
Stu and Your Team at MBTN Academy